The NTK AFRM is on national backorder until June 1, 2015.  Unfortunately, the market has few very high quality, low cost wideband solutions.  Many systems focus on the ancillary features (bells & whistles), while the NTK AFRM and the NGK Powerdex AFX (now Ballenger Motorsports AFR500) focus exclusively on precise & accurate wideband air fuel ratio measurement.
Fortunately, the Ballenger Motorsports AFR500 is currently in stock and available!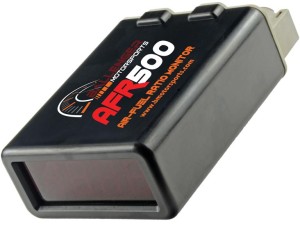 After describing the differences between the NTK AFRM and Ballenger Motorsports AFR500 to customers, the most common question is "which is better?" or "which one is better for me?"
The concise answer is that the AFR500 is the better choice for most.  Unless you must have a lambda readout or need to read in the extended lean range, the AFR500 is generally a superior option.  The AFR500 has proven more reliable (as the Powerdex AFX), has more sensor options from inexpensive to lab quality, and was designed by the industry leader in calibration & lab equipment.  The NTK AFRM in contrast, while still an excellent unit surpassing other market competitors, was designed by a different group to reduce cost compared to the Powerdex AFX / AFR500.
We believe the core function should come before the bells & whistles and that design should not be compromised for profitability.  The Ballenger Motorsports AFR500 and the NGK Powerdex AFX before it stand as the benchmark for wideband air fuel measurement below the $1500 price point.