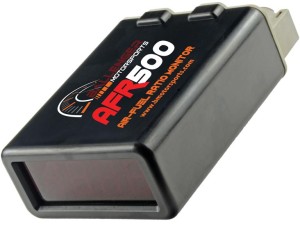 As you may already know, the NGK Powerdex AFX has been discontinued. Our customers have asked for a continuation of the Powerdex AFX and we are offering a direct solution! Ballenger Motorsports is releasing the AFR500 as a direct successor to the Powerdex AFX. We have heard stories of vendors gouging on remaining Powerdex AFX units and used units being sold at extreme markup as customers scramble to get the last Powerdex AFX units still available.
To fill this void and to continue to offer a direct successor to the AFX that works with a variety of Bosch and NTK sensors, Ballenger Motorsports is proud to release the AFR500! The AFR500 works with the same sensors & wiring, while offering the same reliability and accuracy as the discontinued Powerdex AFX! Designed by the same group as the Powerdex AFX, the AFR500 has identical dimensions, specifications, features, & function. We also offer some additional options which were previously unavailable such as a shorter harness length and additional sensor options.
The AFR500 makes true wideband technology with top of the line measurement equipment available to enthusiasts and tuners for the first time. Air fuel ratio offers critical feedback for tuners to alter parameters to achieve maximum power and efficiency from their engine.
The Ballenger Motorsports AFR500 Air Fuel Ratio Monitor offers a range of true wideband sensors from low cost options to lab grade sensors. No competing system offers this flexibility in this price range. Comparative systems typically sell for thousands of dollars for dedicated calibration equipment. The AFR500 is capable of reading air fuel ratio values from 9.0:1 to 16.0:1 with a resolution of 0.1 to provide excellent resolution in the tuning range of most performance vehicles. The Ballenger Motorsports AFR500 utilizes sensitive Nernst style, pump & reference cell based sensors that can detect a wide range of oxygen concentrations in order to properly interpret air fuel ratio in a variety of combustion environments.
The Ballenger Motorsports AFR500 offers a linear analog output to be used as an input to engine control systems, gauges, or data acquisition systems. The output varies from 9:1 at 0v to 16:1 at 5v.
At $299 retail, the base AFR500 will include the following:
Large, bright digital display controller (~3.4in x 2.7in x 1.3in)
13 ft wiring harness with sealed connections
Bosch LSU 4.2 wideband oxygen sensor
Weld in exhaust boss & plug
Mounting Velcro
Comprehensive Installation, troubleshooting & tuning manual
0-5 volt Analog Output Signal
Compatible Fuel Types:
Gasoline / Petrol (leaded or unleaded)
Alcohol (Methanol)
Ethanol
Compressed Natural Gas (CNG)
Liquefied Petroleum Gas (LPG)
Propane
Many other combustible fuels
Options include:
NTK production grade sensor (+$50)
NTK calibration grade sensor (+$150)
NTK lab grade sensor (+$450)
7ft wiring harness (+$10)
Wholesale and volume seller inquiries welcome at sales@bmotorsports.com.
To address some questions, below is a quick Q&A:
Q. Why offer the NTK AFRM and the AFR500?
A. The NTK AFRM is a new architecture using a new sensor. Many of our customers want to use the well proven NTK and Bosch sensors with the known reliability and excellent track record that the prior system offered. To meet this need, we released the AFR500. Designed by the same group as the Powerdex AFX, the AFR500 has identical dimensions, specifications, features, & function.
Q. Should I get an NTK AFRM or an AFR500?
A. The AFR500 has a long, proven track record providing accuracy, reliability & precision of systems typically costing $1500 or more. The AFR500 also works with several sensor options while the NTK AFRM only works with a single sensor type with no replacement available as of July, 2014. The NTK AFRM was designed by a different group and has yet to establish a following.
Q. Can you explain these NTK sensor options?
A. The NTK sensors come with varying levels of capability based on their intended usage. Most systems will simply offer an NTK sensor as a single option which can be misleading when you are comparing lab grade equipment at high cost to a system using the lowest cost sensor in the same family. We have chosen to provide customers with a full range of offerings.
Q. Is the NTK sensor better than the Bosch sensor?
A. In some cases, yes. For leaded fuel, for periodic moisture, or contaminant exposure the NTK sensor family clearly demonstrates superior performance. Many tuners have reported thousands of dyno hours on NTK sensors with leaded fuel while the Bosch sensors die quickly with lead. No sensor is immune from poor tuning however and a rich misfiring and exhaust backfiring engine can damage even the most expensive sensor in a matter of minutes. For a casual street user on pump gas, there is a less discernible advantage for the higher cost sensors.
Q. Can you break down the sensor options further?
A. Sure, here is a more structured breakdown:
Standard Bosch Sensor: This is the sensor NGK packaged with the Powerdex AFX in 2010 and earlier. A solid sensor used in the majority of aftermarket widebands and OEM many vehicle applications
Production Grade NTK Sensor: This is the sensor NGK packaged with the Powerdex AFX in 2010 and later. Newer and lower cost than the Calibration Grade NTK Sensor, this sensor offers the benefits of the NTK architecture at a reduced price.
Calibration Grade NTK Sensor: This is a more robust and slightly more accurate NTK sensor typically used in higher end systems. The reputation of the NTK sensor was largely built upon this sensor.
Lab Grade NTK Sensor: This is a highly accurate NTK sensor used previously only in systems costing $1500 or more.
Q. Why is the AFR500 special? Why do pro tuners recommend it so heavily? Why is it better than other products?
A. The AFR500 and the Powerdex AFX before it set a new benchmark in price / performance for the aftermarket. OEMs & Laboratories use extremely accurate and expensive hardware during calibration and detailed analysis for oxygen concentration values. Prior to the AFR500 & Powerdex AFX, this accuracy equipment was only available at high cost and typically only known by pro tuners and professional calibrators.
In the single instance of the AFR500, a major OEM supplier leveraged their relationship with the most respected laboratory & calibration equipment manufacturer to create an entirely new grade of product. While the AFR500 does not offer the bells and whistles of some systems, pro tuners quickly learned they were dealing with quality equipment that they previously paid thousands of dollars for at an incredible price point. With a wide range of sensor options available, the AFR500 allows tuners and consumers alike to use true calibration grade equipment at an incredible price point!
Most aftermarket companies represent groups of entrepreneurs hoping to capitalize on a market niche that was not being adequately served. While other aftermarket products offer many ancillary features, their reverse engineering has only taken their fundamental function to a point of nearly as good. The AFR500 offers unrivaled accuracy, reliability and sensor longevity at this price point.
Replacement Sensors
Replacement Harness
If you have any questions, please feel free to contact Ballenger Motorsports at sales@bmotorsports.com.